Installation view:
Jelena Jureša, Song
Out of sight, Antwerp, 2018
Curated by Dušica Dražić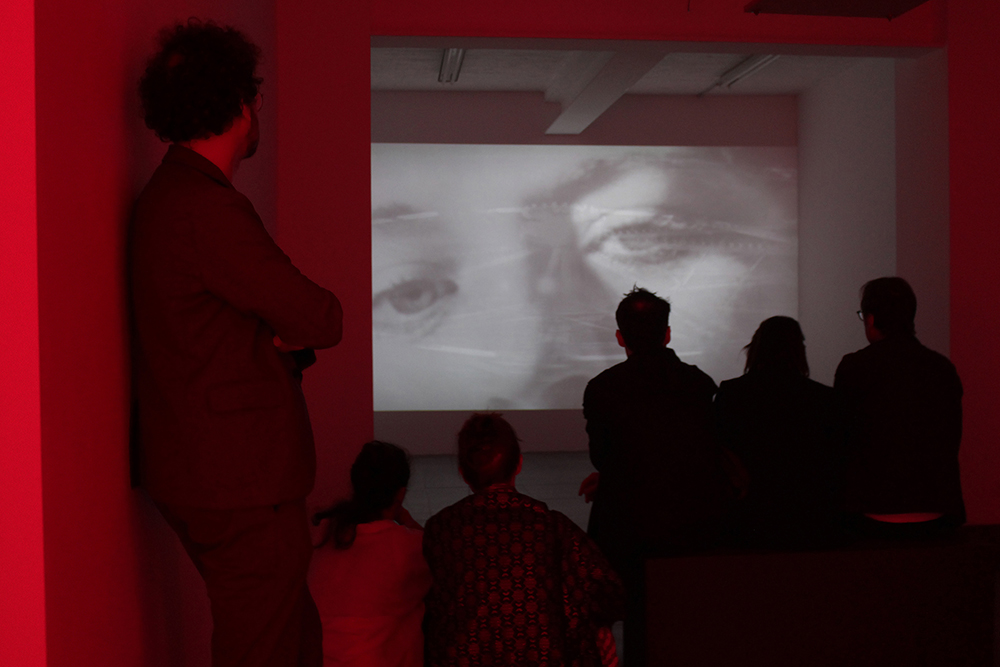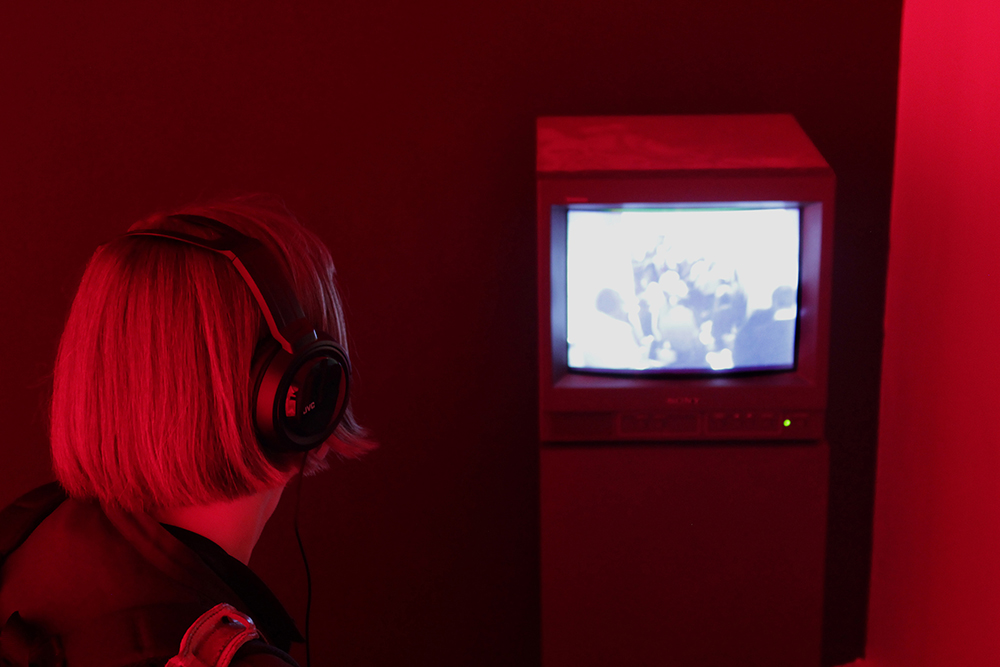 On the deathbed, dementia would sporadically allow my grandfather to access two seemingly mundane memories. He remembered swimming with his mother in the Adriatic Sea and a sweater with deer that my maternal grandmother knitted for him. I still remember his gaze into the past. I remember him contemplating those two moments, always with the fear that he would perhaps never access them again.
To you, dear mother, my thoughts do fly,
Over hills and dales, behind the sun,
Hear these greetings from far and wide,
From your dearest son, your only one[1]
After many years, I am confronted with the same gaze in Song. Only this time I am looking into the eyes of a young woman. There is something uncanny about this experience. Her eyes see, but don't look. It seems like her future and past are trapped in her present gaze. Her inner darkness obstructs eye contact. Or is the impression enforced by my incomprehension of her darkness?
The first time Jureša saw the close-up of this woman – Vera Rimski holding a welcome bouquet at the Munich railway station – was in a book in the Graz library, and she later 'recognised' her face in Special Trains, a documentary film by Krsto Papić from 1971.
Fifty years ago, in 1968, a bilateral labor agreement between Yugoslavia and the Federal Republic of Germany was signed, resulting in mass migrations of labor force. Special Trains follows what was presented as the temporary migration of Yugoslav 'Gastarbeiters'[2], documenting degrading medical examinations and bureaucratic procedures and interviewing guest workers on their journey to a promising future.
A woman on the train. She is silent and absent. The darkness in her eyes is the sorrow of a labor migrant leaving her home, not knowing if she will ever come back. An abyss of solitude.
I'm abroad now, so very far away
And so now we are no longer near
And will I ever see you again
My beloved mother, mother dear[3]
Jureša notes in her book It is not red, it is blood. Not blood, red. that many labor migrants of that time reestablished the link to their motherland by buying land in Yugoslavia and building houses, often in architectural styles typical of their new country of residence, all of it in the hope of returning home in old age. Even though many guest workers were able to adopt and accept new cultural codes, 'what most of them were unable to embrace was the music of the country they migrated to'[4]. At the time, the song To You, Dear Mother, My Thoughts Do Fly written by Nikola Škrba became very popular. This song became the bloodline of Jureša's Song. It was also the theme of two articles by the novelist Miljenko Jergović, which tell a story about various connotations of this song.
In a good way, with its quaint imagery, hymnic fields and valleys, and a catchy, simple tune, the song expressed those people's sentiments. Like another song that says: 'every foreign land brings sorrow unceasing', it gave people the opportunity to find a home in their homelessness, in a song that tells them that they will perhaps never see home again. There was no need to leave Posavska Mahala or Čardak for Frankfurt; foreign land was as close as the other side of the river Sava.[5]
A memory that we could possibly share is one of the broadcasted footage of the twin towers 'Momo' and 'Uzeir' in Sarajevo, burning. The twin towers whose names were taken from Škrba's fictional characters. Nikola Škrba, who died of starvation in occupied Sarajevo in 1995. The towers survived.
***
I moved from Belgrade to Antwerp in 2014. I moved to an apartment whose large kitchen windows look out on a nursing home, and they used to look out on a schoolyard before it was closed and transformed into lofts. It almost served as an example of a lifetime. On one side, the beautiful noise of children playing, on the other, silence.
Every day I look at the nursing home. Same curtains, same colour of the walls, same beds. The only personalised details are flowers and picture frames. Occasionally, the curtains stay closed on a window for a few days and all the objects are gone.
The silence present in nursing homes becomes palpable in Song. Invisible bodies, looking at the ceilings at Lavoslav Schwarz Jewish nursing home in Zagreb. Empty corridors, flickering lights, spinning ventilators. The smallest sounds become distorting in the silence. Sound erases image. Silence erases history.
Ljiljana Molnar Talajić, 'the last great Verdian voice' came regularly to that nursing home and sang to the Sarajevo Jews. She sang to people without home, in the last place that they would ever leave. Her gentle voice was breaking the silence. To You, Dear Mother, My Thoughts Do Fly was inhabiting emptiness. She sang to long gone mothers. She sang to soon-to-be-forgotten mothers.
The resonances are dispersed on the different planes of our life in the world, while the repercussions invite us to give greater depth to our own existence. In the resonance we hear the poem, in the reverberations we speak it, it is our own. The reverberations bring about the change of being.[6]
In a further quest for the echoes of the song, a bus full of people stopped at the Church of St. Mary of Jerusalem in Trški Vrh. They entered the church, and sang:
Forget you, I'll never be able
Your gentle eyes that always praised me
Your loving hands, my dearest mother,
That so patiently, kindly raised me.[7]
The statue of Virgin Mary is small, only 12cm tall, disappearing in the baroqueness of the church. Her small sinless body 'in opposition to that of everywoman'[8], enveloped in the architectural shrine. Her calm demeanour overpowering the male figures that surround her. A collection of bodies frozen in their deliberations and pains, but somehow still remaining passive.
In 1992, a Marian Church burns to the ground.
Cardinal Vinko Puljić is singing during the consecration of one of the Marian churches rising in the devastated land of Posavina […] he is singing the song thinking of the Mother of God and all other mothers. Ivan Lovrenović draws my attention to it: 'In our Bosnian catholic clerical circles, across different religious orders, the song 'To you, dear mother, my thoughts do fly' has long been a kind of informal, lay folk hymn dedicated to maternal Marian sentiment.'[9]
In 1995, the wedding between Ceca, a Serbian turbo-folk singer, and Arkan, a Serbian warlord, was televised. This daylong spectacle collided with the daily images of war. 'In a bizarre blend of sex appeal, nationalism, religion, crime, vulgarised intimacy and parenthood, the Serbian Mother or Mother Nation, as she [Ceca] is referred to, managed to build a life-repeatedly portrayed in the media as fateful and beyond her control. […]'[10] A collection of bodies frozen by their stardust, remaining passive, feeling no shame, refusing responsibility.
In 2013, a Croatian music drama Stella was aired. A young actress, Sementa Rajhard, sang To You, Dear Mother, My Thoughts Do Fly, becoming a new star. There is something touching about her attempt to escape fame, by always going back home, working at her parent's amusement park. She sells tickets for the ride, while occasionally signing autographs.
I think I hear the lyrics of the song. But there are only sounds. A swing ride. Empty chairs spinning in between, grounded while in the air. The fake feeling of freedom. Circular movement. Turning on the axis, again and again and again…
***
Jureša herself started a journey, repeating the same circle, visiting the authentic locations of the stories she tells. From the twin towers 'Momo' and 'Uzeir' in Sarajevo, to Lavoslav Schwarz Jewish nursing home in Zagreb, the Church of St. Mary of Jerusalem in Trški Vrh, and finally to Sementa Rajhard's amusement park. Maybe this is an attempt to achieve coalescence, to follow the law of physics that we witness in the first frames of Song:
When fluid drops merge, a dramatic transformation occurs: the topology changes as the fluid masses, originally separated, merge into a single entity.  At first, the drops are separated by only a small distance. Then a thin fluid bridge is formed between them which rapidly widens due to surface tension forces as shown in the figure. […] We have uncovered a variety of different singularities – some of which surprisingly retain a memory of their initial conditions throughout the entire breakup process.[11]
[1] Nikola Škrbo, 'To You, Dear Mother', Trans. Randall Major.
[2] Guest workers.
[3] 'To You, Dear Mother'.
[4] Jelena Jureša, It is not red, it is blood. Not blood, red. (unpublished PhD, Ghent University; KASK, 2018), p. 210.
[5] Miljenko Jergović, 'Kardinalova pjesma o gastarbajterima, prognanim židovima i Blaženoj Djevici', Jutarnji list, 3 September 2013.
[6] Gaston Bachelard, The Poetics of Spaces, Trans. Maria Jolas (New York: Beacon Press, 1994), p. xxii.
[7] 'To You, Dear Mother'.
[8] Jelena Jureša, It is not red, it is blood. Not blood, red. p. 284.
[9] Miljenko Jergović quoting Ivan Lovrenović in 'Kardinalova pjesma o gastarbajterima, prognanim židovima i Blaženoj Djevici'.
[10] Jelena Jureša, It is not red, it is blood. Not blood, red. p. 280.